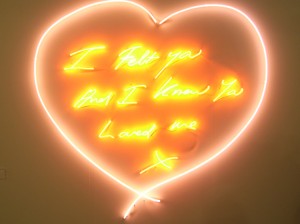 Light Luv and Happiness
When one starts seeing the same neon lights on flashy hotel signs in Miami Beach as they do in art fair booths, always remember that arguments about the separation between pop culture and the art world are useless.
Tracey Emin's heart-shaped neon sign "For You" (2008) at White Cube Gallery's Art Basel Miami Beach booth continues the Young British Artist's exploration into, well, herself. Emin never holds back, spilling her guts to the viewer through her soap operatic art-making process. Inside her bright light pink heart, she bends red neon tubes into a scrawly sentence that reads, "I felt you and I knew you loved me X." Sad and sappy like a tearjerker moment in a bad romance film, Emin's newest work recalls her 1996 neon sign "Kiss me, kiss me, cover my body in love" that's almost exactly the same but without the cheeky heart. Jonathan Monk's "The sex is the same but the dishes start to pile up" (2008), created with the same pink neon but mounted on a black rectangle of Plexiglas (Yvon Lambert Gallery), revels in its mature male sensitivity and conceptual basis, bypassing Emin's purposefully sloppy, emotive aggravations. While Emin's work reads with whinyness, Monk's signage typifies a more rational, poetic approach to one such truth.
Read the entire story on Newcity: http://art.newcity.com/2008/12/07/day-three-miami-art-fairs-gimme-a-sign/
Continue on to day four coverage: http://aliciaeler.com/2008/12/08/news-day-miami-art-fairs-image-moves-newcity-newspaper/