Here's the full write-up about our show on the Gallery 400 blog: http://gallery400.blogspot.com/2010/03/performance-anxiety.html
Performance Anxiety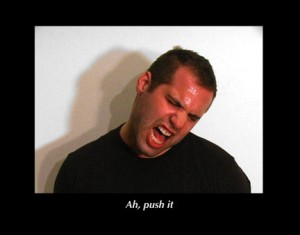 Performance Anxiety: Video Program
Curated by Alicia Eler and Jefferson Godard
Wednesday, April 7, 8 pm
Come for Gallery 400's MFA Thesis Exhibition opening 5-8 pm, and stay for: Performance Anxiety, a program of short video works dealing with performances of cultural identity. In navigating complicated understandings of gender, race, class, sexuality, or existence in on- and off-line spaces, individuals accept and internalize cultural rules or ideologies and pass; reject them, identifying such performances as a form of cultural oppression; or even scramble and combine rules and codes in personalized constructions. Performance Anxiety (run time: approximately 50 minutes) features the work of American artists Rochelle Feinstein, Kate Gilmore, James Murray, Jeroen Nelemans, Greg Stimac and Stacia Yeapanis.
Performance Anxiety previously screened November 10–December 22, 2009, on French channel freebox 129 and German channel Unitymedia/Kabel BW through the organization Souvenirs from the Earth TV.
Eler and Godard write:
In KATE GILMORE's My Love is an Anchor (2006), the artist anchors her foot in a bucket of plaster, and for seven minutes and five seconds she pounds, hammers, and twists back and forth, attempting to break free of this self-imposed situation. Wearing a short black dress, Gilmore seems like she should be at a cocktail party, not struggling on the floor of an empty room. Her work builds on 1970s feminist, endurance-based performance work, and suggests the monotonous, difficult act as a metaphor for change–it takes a huge effort to make even a
slight chip in the foundation. Gilmore's work has been show internationally; recent exhibitions include "100 Years" at PS1/MoMA, Queens, New York; "Reflections on the Electric Mirror: New Feminist Video" at the Brooklyn Museum of Art, Brooklyn, New York; "By Any Means" at Locust Projects, Miami, Florida; and at Franco Soffiantino Arte Contemporanea, Turin, Italy.
JAMES MURRAY's Electrical Performances: Push It (2006) is a fixed video portrait of the artist. Viewers see Murray's face and shoulders only. The lyrics from Salt and Peppa's "Push It" appear at the bottom of the screen, but one cannot hear the actual song. Murray sweats heavily, enduring increasing amounts of pain until the song finally ends. The viewer can't help wondering if he enjoys it, if he's suffering, or both. Murray says his work is invested in "the ideologies that are prevalent in both queer BDSM and club music regarding the potential for
emancipation and freedom through physicality and endurance." If this holds true, what does his video mean for the politicized homosexual male body post-AIDS crisis that exists in a period of gay culture mainstreaming? Is there such a thing anymore as the queer body politic? Recent exhibitions include Our Great Show at Nice & Fit Gallery, Berlin, and Body Collective at Alogon Gallery, Chicago.
ROCHELLE FEINSTEIN's Ball and Chain (2007-8) calls to mind lyrics from Janis Joplin's "Ball and Chain": "Something grabbed a hold of me, honey, / Felt to me honey like, lord, a ball and chain." In Feinstein's take on the phrase, a small disco ball swings around a square black base. The iconic disco ball suggests political connotations of 70s disco and the cocaine wars, and the 80s AIDS epidemic that later devastated carefree, sex-thirsty men who danced all night at clubs. With the renewed love of shiny disco balls in America, Feinstein asks viewers about their own, subjective ball and chain, suggesting the ways that this timeless image has become subjective and, perhaps, de-politicized. Recent exhibitions include "I Made a Terrible Mistake" at LAB Space/Art Production Fund, New York; The Studio Show at David Reed Studio, New York; "Talk Dirty To Me" at Larissa Goldston Gallery, New York; and Desire at Blanton Museum of Art in Austin, Texas (2010).
Chicago-based artist GREG STIMAC's six-minute video Peeling Out (2007) deals with representations of masculinity in American culture. Stimac travels to a rural US locations and asks motorists to "peel out," revving up their engines and hitting the pedal, which in turn leaves thick black tire tracks on the road. The drivers perform this act, whoever can do it hardest and longest proves that they are the most "virile" of all. In this work, Stimac probes these tests of masculinity. Exhibitions include a forthcoming solo show at Andrew Rafacz Gallery, Chicago, Illinois (2010); USA Today at the Museum of Contemporary Art, Chicago; and Preview Berlin, Video Art Program in Berlin, Germany.
STACIA YEAPANIS' Life Isn't Bliss. It's Just This. It's Living (2007) explores existentialism in virtual culture. Her Sims character goes through her day, performing mundane tasks like cleaning the bathroom, experiencing emotional outbursts, and doing exercising. The game, as she suggests, parallels life–meaning must be created, and each individual must carve out a place for him or herself. Identities are subjective, malleable, and formed by individuals. If the Sims game mirrors "real life," one must conclude that the adage is true: life is only what you make of i