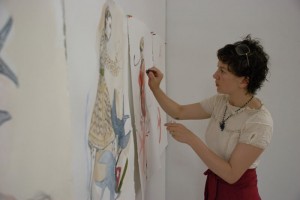 Tonight, my dear friend and fellow queen bee, Peregrine Honig, will appear on BRAVO's reality television show, Work of Art: The Next Great Artist.
In each episode of the show, the contestants create works of art from a variety of mediums that are designed to "push the limits of their technical skills and creative boundaries," says Maile Marshall of Bravo Communications. The grand prize? A solo show at the Brooklyn Museum and $100,000 in cash.
Although I have only known Peregrine for three years, and we live in different cities—me in Chicago, her in Kansas City—we've developed a wonderful creative friendship that continues to inspire and motivate me in my writing, comedy and performance art.
As a writer, I recently had the pleasure of writing the prologue for her fashion magazine, Widow. In 2007, I wrote an artist portrait of her for Time Out Chicago magazine.
As curators, Peregrine and I conceived the successful video art show Video as Video: Rewind to Form, which opened in September 2008 at the Swimming Pool Project Space. The show received press in publications ranging from The Huffington Post to the Italian magazine, Viatico Art Magazine.
On a more personal level, Peregrine drew my first two tattoos: a great horned owl (2008), my special spirit animal, and a bouquet of pink flowers (2009), which are in memory of my Grandma Edna. Earlier this year, Peregrine and I got matching queen bee tattoos based on drawings from a bee keepers' book.
Peregrine is like a sister to me, and I am constantly inspired by her. I can't wait to see her tonight on the big screen. She deserves everything.