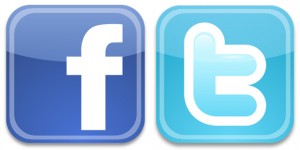 Hey friends! At the Hyde Park Art Center on October 19 at 6pm, Chicago Gallery News' Ginny Berg and I are co-moderating a panel called Chicago Artists and Social Media:
How are artists in Chicago using social media platforms, such as Facebook, Twitter, Foursquare and Gowalla, to connect with the local art community, including fellow artists, collectors, members of the press, and the international art world? How has social media changed art creation and communication?
This panel discussion builds on Social Media Strategies in Chicago's Art Community, our spring 2010 panel at Art Chicago that addressed social media in Chicago's art institutions.  It will be co-moderated by Ginny Berg, Publisher of Chicago Gallery News and art critic and social media consultant Alicia Eler. Artist Panelists include Annie Heckman, James Jankowiak, Judd Morrissey, and Jason Salavon.  This panel is hosted by the Hyde Park Art Center.
Panelists and audience guests are encouraged to chime in live on Twitter before, during and after the panel: #socialmediaartists
Facebook RSVP for Chicago Artists and Social Media at the Hyde Park Art Center: http://www.facebook.com/#!/event.php?eid=161646177185532