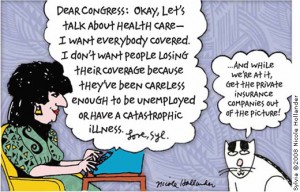 Alicia and Sylvia are two good friends of cartoonist Nicole Hollander, and together they have her back in the game.
Sylvia is someone Hollander's known and drawn for 35 years, and they've been through plenty together. In 1990 the Sun-Times dropped Sylvia. But Hollander and Sylvia are hometown gals with a lot of friends, and the Tribune quickly picked it up. But in February the Tribune dropped Sylvia, and the hue and cry raised by those friends cut no ice.
Click this link to read Michael Miner's article "Nicole Hollander Sounds Excited Again" on The Chicago Reader's website.