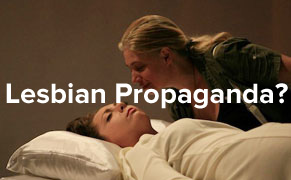 CHICAGO — Fairytales are make-believe until a country's Catholic Church decides to protest them.
Ukranian-Canadian artist Taras Polataiko's experimental performance work "Sleeping Beauty," a modern-day retelling of the titular fairytale restaged at the National Museum of Art Ukraine from August 22 to September 9, has been decreed "lesbian propaganda" by the Ukrainian Catholic Church.
The official statement was released today and sent to Ukranian President V. Janukovyvh, Ukranian Prime Minister M. Azarov, Speaker of Ukrainian Parliament V. Lytvyn, Minister of Culture of Ukraine M. Kulyniak, members of the Ukranian Parliament, and the mass media. Polataiko's controversial Sleeping Beauty exhibition was almost shutdown by the Ukranian Ministry of Culture early in its run.
In the exhibition/performance, museum visitors who desired to kiss one of the five Sleeping Beauties had to sign a legally binding contract stating that if she awoke, the two would have to marry. Of the five Sleeping Beauties in the exhibition, only one opened her eyes — and it was to the kiss of another woman. This came as a surprise to both the Sleeping Beauty and the woman who smooched her.
READ THE FULL STORY ON Hyperallergic: http://hyperallergic.com/58425/ukrainian-catholic-church-declares-taras-polataikos-sleeping-beauty-project-lesbian-propaganda/