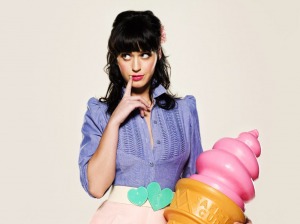 Here's a Katy Perry tribute story that I read at last month's POP TRAUMA event. Please keep in mind that I squirted whipped cream from my crotch while reading this piece to an audience. Enjoy and please do your part to keep the pop trauma alive.
A Portal into My Teenage Dream
by Alicia Eler
I wake up in Candyland where I finally meet Katy Perry. Red-and-white striped candycanes float in the sticky sweet air that smells like stale sugar. Katy approaches me wearing a pink fluffy cotton candy dress. Her mouth is permanently stuck in an "O." She says nothing, only hums at a pitch that gets higher and higher until it turns into a deafening scream. I cover my ears. There is a peppermint candy cane hanging from her right ear. A scoop of strawberry ice cream melts on top of her pink hair. She bends over, drips ice cream onto my left shoe, and then scurries away into the candycane forest. She climbs a Twizzler rope. I see her snow white ass pop out from underneath her effervescent dress. I guess the cotton candy isn't sticky enough. At the top, she exits onto a blue cotton candy cloud; its texture is much thicker than her pink cotton candy dress. She lies down, removes her cotton candy getup, and poses nude like Manet's 1862 painting of a whore, Olympia. Then she looks down at me, rainbow sprinkles in her eyes. I shoot whipped cream straight up into the blue sky.
To read the entire story, go here: http://rocktrauma.wordpress.com/2012/10/17/a-portal-into-my-teenage-dream/