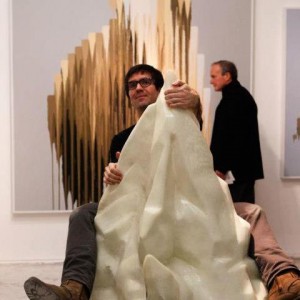 Jake Myers is visible on and offline as an artist and in the artist-run project space scene through The Octagon Gallery, a space that he runs out of his home. It's not a stretch to say that Jake Myers is everywhere. In his artwork, Myers seeks to deconstruct the myth of artists as pale, gangly and unathletic. In the READ Posters series, he appropriates those 90s-era READ posters that typically picture athletes holding up a book and replaces them with Chicago artists. The posters act like offline memes, yet they embody Myers' distinct aesthetic—equal doses light 90s nostalgia and local art community participation. The opposite of an egotistical artist, Myers is instead most concerned with remaining chill and making sure everyone else has a good time. When I arrived at Jake and his girlfriend Lara's loftspace/studio that doubles as The Octagon Gallery, I was greeted by Leland, their loveable, two-year-old greyhound rescue pup. "He only raced for two years," says Myers, sympathetically rubbing Lee's elongated skull. "That's not very long, but he didn't do very well." As I sat down on the couch to start our conversation, Lee hopped up and nestled his long body next to mine. Then Jake and I put away our touchscreen phones and started talking, IRL.  
This is the third post in a five-part series about how artists use social media. Read the previous two posts about artists Sabina Ott and Ellen Greene. Have ideas for a topic you'd really like covered on the OPP blog? Email us at blog [at] otherpeoplespixels.com.
Alicia Eler:  How do use social media as an artist? I'm talking about Facebook, Twitter, Tumblr, Pinterest, Reddit, Digg…
Jake Myers: I pretty much only use Facebook—that is the only social media outlet that I do. I've set up Tumblrs, but that's mostly to show documentation of things, and to show the aftermath of projects. I'm not doing the sharing, liking, following of people on Tumblr. It's a fast way for me to be at a show, take a picture, and share it. The Tumblrs end up acting more like archives. I send people to those Tumblr links when I'm applying for grants.
To be honest, I mostly use Facebook. I feel really annoying—I'm always inviting my friends to art events that happen at least once a month. But it's cool, because they show up.  They wouldn't know about these things otherwise, because we don't go to high school or college together anymore. Facebook is the channel that can pull all these people in. I can kind of keep tabs on how many people will probably show up. I have a formula: You take the number of people who say they are going and divide it in half. That's usually about the number of people who will show up. Facebook helps you know how much beer to get and also what kind of expectations to have for the show.