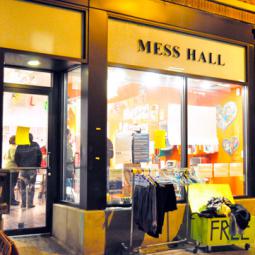 Collective, Communal Production Project Ends After 10 Years
By Alicia Eler, CAR Visual Art Researcher
After ten years the artist-run, experimental cultural center Mess Hall, located at 6932 N. Glenwood in Chicago's Rogers Park neighborhood, closes up shop. Initially a gift to artists from the property owner, developer Al Goldberg, Mess Hall became a project on how to give back.
"The project was anchored in that space because it was a trigger, and it gave us a great deal of freedom to work outside of income-generating activities," says Rozalina Borcilă, a Mess Hall keyholder. "We wanted to redistribute that gift broadly across different communities, what cultural production means and what a social center might be."
Mess Hall presented a mixture of visual art, radical politics, creative urban planning, applied ecological design and other programming. Events at Mess Hall varied widely, from film screenings with Black Cat Factory to group brainstorming workshops focused on rebuilding abandoned sites in Youngstown, Ohio. Mess Hall's programming was free, making possible events like free market swaps and potlucks with a focus on educational issues. Mess Hall was a unique space only made possible through a gift economy.
Read the full story on Chicago Artists' Resource: http://www.chicagoartistsresource.org/announcements/experimental-cultural-center-mess-hall-closes-march-2013