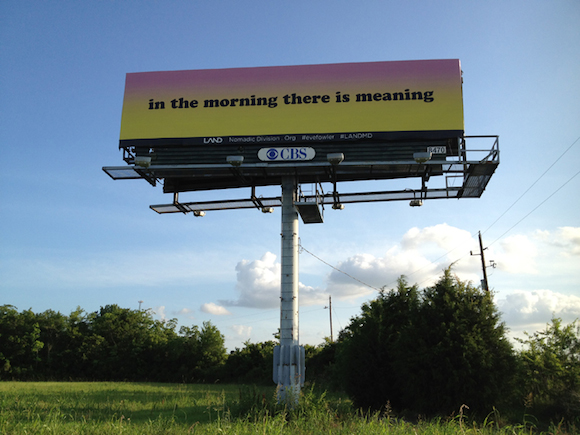 Let's make my story into a documentary! Just vote here:
http://www.kcet.org/arts/artbound/vote/vote-manifest-destiny-billboard-project-vs-da-vinci-apartments-controversy.html
Meanwhile, read the story. . . 
There's a stretch of Interstate 10 from Los Angeles, passing through Palm Springs to Tucson, that artist Zoe Crosher describes as a sort of "no man's land." Crosher knows it well from her early days in L.A., when she traversed it, regularly visiting her then-boyfriend, now-husband who was at the University of Arizona in Tucson. On that open-ended landscape that could have been excerpted from a sci-fi movie or a nuclear bomb test site, nothing lived but the desert heat. Crosher's vision appeared on one of those countless back-and-forth drives.
"I was in the middle of the deep, dark desert, wanting to get to Los Angeles," says Crosher. "I had this vision of a green, beautiful Shangri-La, like an image of perfection."
The heat of the desert planted these first water-necessitating seeds, becoming the Manifest Destiny Billboard Project, a curated experience that occurs cross-country along Interstate 10. Conceived by Crosher and co-curated with LAND (Los Angeles Nomadic Division) Director and Curator Shamim M. Momin, the project offers 10 artists a chance to create 10 billboards in designated stretches of the interstate, anchored in a nearby city. Each billboard marks the landscape that's been tread tracing America's expansion from east to west, marking the problematic pathway of a determined, individualistic takeover of native lands, and a molding the landscape into what people wanted it to be rather than embracing it for its natural beauty.
Read the full story on KCET Artbound Los Angeles:  http://www.kcet.org/arts/artbound/counties/riverside/zoe-crosher-manifest-destiny-billboard-project.html
Turn this article into a documentary on KCET! Just vote here: 
http://www.kcet.org/arts/artbound/vote/vote-manifest-destiny-billboard-project-vs-da-vinci-apartments-controversy.html