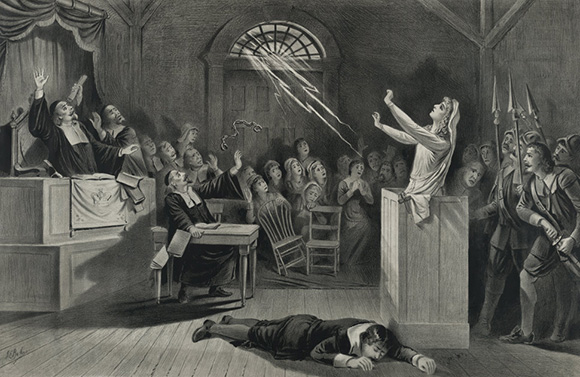 Vireo is a new opera composed by Lisa Bielawa on a libretto by Erik Ehn and directed by Charles Otte, featuring 16-year-old soprano Rowen Sabala. A collaborative project of KCET and Cal State Fullerton's Grand Central Art Center, Vireo is being created expressly for episodic release via broadcast and online media, airing on KCET's Artbound March 31 at 8 pm.
Western history's read on hysteria is long and fraught, fascinating and powerful. Hysteria is almost always associated with the female mind and/or body, and mention of it calls to mind a plethora of images and concepts, such as witchcraft, the relationship between photography and psychiatry in the late 19th century, and Charlotte Perkins Gilman's novella "The Yellow Wallpaper" about a woman who loses her mind when confined inside. Depictions of hysteria abound in films such as Roman Polanski's 1965 psychological thriller Repulsion, a portrait of Carol's (Catherine Deneuve) devolvement into solitary madness that is portrayed as "the dark side of female innocence" as imagined by men, and the 1922 film Häxan: Witchcraft Through the Ages which traces notions of witchcraft and sorcery back to the times of primitive man.
Hysteria histories live on today in "Vireo: The Spiritual Biography of a Witch's Accuser," an episodic opera created by composer Lisa Bielawa with libretto by Erik Ehn. Inspired by a combination of the Yost Theater, the Orange County School of the Arts (OCSA) and, yes, the TV sitcom "Arrested Development," Bielawa envisioned an opera that was to be viewed on a screen — either online or on TV — and releases it in an episodic, micro-chapter-like format. She focuses on female hysteria through the ages, a project she began researching more than 20 years ago as an undergraduate at Yale.
Read the full story on KCET Artbound L.A.: http://www.kcet.org/arts/artbound/counties/los-angeles/vireo-hysterical-histories.html