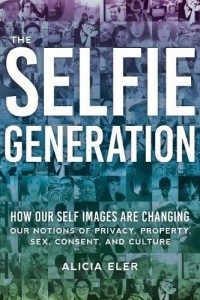 THE SELFIE GENERATION is now available in bookstores, at Barnes & Noble, and on Amazon!
What exactly is a selfie, and why are they everywhere? Whether you happen upon them online or literally run into people taking selfies on the street, the selfie is an elusive yet consistent aspect of how people visually communicate today. In her book The Selfie Generation (Skyhorse Publishing), millennial Alicia Eler argues that selfies are more than just an image—they are a mirror into how we live today. Part memoir and written from a queer perspective, Eler's book ultimately seeks to redefine how our culture looks at millennials.

Sign up for my newsletter!
Book Tour Dates Announced
Minneapolis — Weds, Nov 8, 2017 @ 7 PM
Magers & Quinn Bookstore, 3038 Hennepin Ave
Minneapolis — Thurs, Nov 9, 2017 @ 7PM
Minneapolis Institute of Art, 2400 3rd Ave S
In conversation with Assistant Curator of Contemporary Art/ MAEP Coordinator Nicole Soukup
Los Angeles — Fri, Nov 10, 2017 @ 7PM
Pop Hop Books, 5002 York Blvd
Tucson — Tues, Nov 14, 2017 @ 3PM
Presentation: "Selfie as Performance"
In conversation with playwright Elaine Romero
University of Arizona Bookstore, 1209 E University Blvd
Duluth — Tues, Jan 9, 2018 @ 6PM
Duluth Art Institute, 506 W Michigan St, Duluth, MN 55802
Seattle — Tues, Jan 16, 2018 @ 7PM
Hugo House, 1021 Columbia St.
In conversation with artist Ellie Dicola
Chicago — Thurs, Jan 18, 2018 @ 7:30PM
Women & Children First Books, 5233 N. Clark St.
New York — Tues, Jan 23, 2018 @ 7PM
Bluestockings, 172 Allen St
New York — Thurs, Jan 25, 2018 @ 7PM
powerHouse Arena, 28 Adams Street, Brooklyn
In conversation with writer and oral historian Svetlana Kitto
Minneapolis — Tues, Feb 27 2018 @ 7PM 
"Talk of the Stacks" at the Mpls Central Library, 300 Nicollet Mall
Lancaster, Pennsylvania — Wed, March 7 2018 @ 6PM 
The Phillips Museum of Art at Franklin & Marshall College
Chicago — Fri, April 27 @ 7PM
The Book Cellar, 4736-38 N Lincoln Ave
"Eler is a selfie semiotician." 
—Wired Magazine