Alicia Eler is a writer, critic, and curator based in Los Angeles.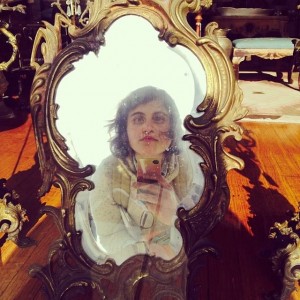 She is the Selfie Columnist for art blogazine Hyperallergic, where she is also a regular contributor.
Her writing projects consider the relationship between American pop and consumer culture, adolescence, and sexualities. Her journalism and art criticism has been published in Art21, Artforum.com, Art Papers, RAW Vision Magazine UK, BusinessInsider, ReadWriteWeb, Salon.com, Chicago Tribune, CNET, Flavorpill, and Time Out Chicago, among others.
Alicia began her writing career as a stand-up comedian and performance artist. When Alicia is not writing, she is probably doing yoga, jogging while listening to Sleater-Kinney and Katy Perry at the same time, dreaming about the tiny dog she will one day own, or hanging with the owls, birds and bees.
Her Hyperallergic story "President Obama Pens Personal Apology to an Art Historian" went completely viral, and was featured on The Rachel Maddow Show and NBC's Hardball with Chris Matthews. It was picked up by dozens of news outlets, including the New York Times, Reuters, New York Magazine, New York Post, Talking Points Memo, Politico, and the Huffington Post.
Alicia's writing projects are featured on New York Magazine, Washington Post, Psychology Today, Gigaom, Colorlines, ArtInfo, VICE Magazine, WTTW Chicago Tonight, Chicago Magazine, Chicago Sun-Times, Chicago Tribune, Nashville Scene, and The Verge. She tweets at @aliciaeler.